About Shimla::
Shimla
is the capital town of Himachal Pradesh. The town of Shimla is built over several hills and connecting ridges. The important hills are Jakhu ( 2,455 meters ), Prospect Hill ( 2,328 meters ), Observatory Hill (2,350 meters ), Elysigim Hill ( 2,466 meters ) and Summer Hill ( 2,300 meters ). Shimla is situated in the North-West Himalayas and was the Summer Capital of India during the British rulling era. This town is spread over the ridge measuring about 12 km. It is perhaps the biggest hill station in the world, located at an altitude of 2,421 meters above sea level.
"Shimla combines the luxury of being a hill station as well as a city. Tourism in Shimla is adventurous and delightful as Shimla offers a lot of beautiful places to explore and a lot of tourism related activities. The main attraction of tourism in shimla is the The Mall and the Ridge. These two places are the most favorable places in Shimla. Kufri and Narkandaoffers great opportunity for tourism in Shimla because of snow covered terrains and skiing in winter season. Britishers called Shimla "the queen of hill stations" and staying true to this saying, Shimla and its nearby areas are heavens for any kind of tourism related activities. Tourism in Shimla offers everlasting memories of rocking and quality time spent in the heart of Himalayas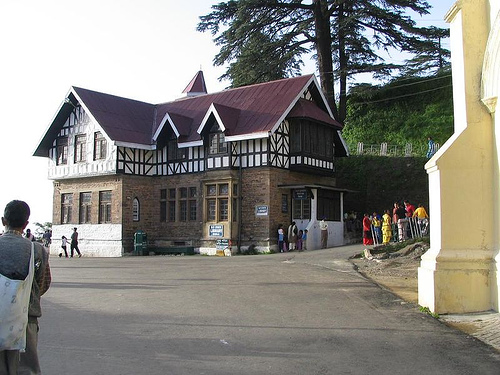 Jakhu Hill
2,455 meters ) 2 km. from town. This is the highest peak of Shimla and offers panoramic view of the town and the mountains. 'Hanuman Temple of Jakhu' is very famous. According to legend, Hanumanji took some rest here when he was carrying a hill of 'Sanjiwani Booti' ( a herb to save the life of Lakshmana, the younger brother of Lord Rama ). Jakhu is one of the most famous places around Shimla.
Indian Institute of Advanced Studies :
The institute in Shimla is housed in the erstwhile Viceregal Lodge which was built in 1884-88 during the period of Lord Dufferin. It is a commanding building in Summer Hill. The gardens of the Institute are really beautiful and fascinating. It was designed by Henry Twain
IGlen
( 1,830 meters ) Distance 4km. This is one of the most beautiful picnic spots of Shimla with flowing streams through dense forest. Approach is near Cecil Hotel and Kennedy House. It is sure one of the very famous places around Shimla.
Kamna Devi
( 2,145 meters ) 5 km. This place is located near Boileauganj. Kamna Devi is the most popular picnic spot in Shimla which commands a unique view of Shimla, Jutogh, Summer hill and Tara Devi. The hill is famous by name of Prospect Hill.
The State Museum Shimla :
Shimla museum has endeavoured to project hill art and the cultural wealth of the state showing their link with the national artistic scene. There is a collection of minitature paintings, costumes, textiles and jewellery of the region. A leisurely winding walk from the Mall, past the Gortan Castle and the Cecil leads to a colonial mansion perched atop a hill. It houses the state museum. A visit to Shimla is incomplete without seeing this museum, which offers a peep into Himachal's grand past.
Summer Hill
( 2,123 meters ) 5 km. A picturesque suburb of Shimla, which offers shady walks in quiet surroundings. Himachal Pradesh University is located here.
General Information
Altitude : varies from 600 meters to 6000 meters.
Headquarter : Shimla ( altitude 2,210 meters)
Location : Shimla district lies between 30°45' and 31°44 North Latitude and between 77°0' and 78°19' East Longitude. It is bounded by Mandi and Kullu in North, Kinnaur in the East, the state of Uttar Pradesh in the South and by Sirmaur district in the West.
Access by Rail : There is broad guage railway line upto Kalka and thereafter narrow guage line upto Shimla 90 km. ) with 103 tunnels.
Access by Road : Almost each and every part of the state is linked by roads. The Himachal Road Transport Corporation is running its buses covering the whole state. There is huge network of HRTC to cater the needs of the people.
Distances : Manali 260 km., Mandi 150 km., Palampur 235 km., Dharamshala ( via Hamirpur ) 235 km., Dalhousie 336 km., Sarahan 175 km., Sangla 230 km., Kalpa 244 km., Tabo 374 km., Kaza 421 km., Keylong ( via Kunzum Pass ) 610 km., Hatkoti 109 km., Chigaon 137 km., Kssauli 75 km., Renuka 165 km., Delhi 370 km., Pathankot 295 km., Chandigarh 117 km.